As longer days summon us to spend more time outside, we start to notice the true colors of the prettiest trees in Texas. They start hinting that spring is here and allow us to have a beautiful picnic or to take that perfect photo. In this article, we will be talking about flowering trees for Houston properties and what trees should you keep your eye on!

Related Post: Plant Trees In Houston
Flowering Trees for Houston – Common Types 
Warm weather is here, trees and plants start to flower, and wildlife is active once again. You are probably starting to arrange the landscape on your property, so some of these decorative trees for Houston backyards could be your next pick!
1. Crape Myrtle
The "Lilac of the South" is named after its foliage that resembles the true myrtle and forms crinkly, crepelike flowers. Crapes carry on here as if they were native, even though they are native to Japan and China. They can be up to 30 feet tall, but there are also miniature shrub-sized trees that grow to only about 2 feet. This tree is considered as "highly adaptable" by most Houston tree services, and it grows best in well-draining, humus-enriched soil. However, crapes aren't picky when it comes to soil.

They are drought-tolerant once established. Good air circulation and abundance of sunshine are keys to a full head of blooms. In addition, these conditions discourage powdery mildew. Crapes sometimes have problems with aphids but are generally considered as one of the healthier flowering trees for Houston area.
Related Post: Crape Myrtles Texas
2. Vitex
Vitex is an ornamental tree that needs well-draining soil and part sun to grow easily. It can be either pruned into a multi-trunk tree or grown as a bushy plant. Keep the trunks exposed by removing suckers around the base. Beautiful lavender-purple blooms persist from spring to fall, and that's the reason why tree services in Texas usually recommend Vitex for landscaping. If you like, you can prune this tree in late winter to shorten and shape it. 
The tree is also known as "Mexican lavender" or "The Chaste tree". It is is one of the most beautiful decorative trees for Houston properties.
Related Post: Tree Pruning Houston
3. Silverbell
The Two-wing Silverbell is a flowering tree that will add another dimension to your garden. It is named after the seedpods that have wings, but the white, bell-shaped blooms that occur in early spring are definitely the reason why people love this tree! The silverbell prefers organically enriched acidic soil, good drainage, and part sun. If you can provide this, it can mature up to 30 feet in height! 
4. Redbuds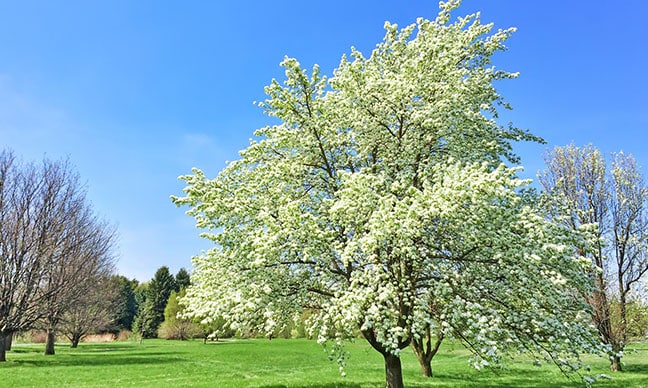 Redbuds usually flower along with the first azalea blooms, in early spring. The type of redbud that is native to Texas is not picky about soil and is drought-tolerant. This small tree covers its bare branches in purple-pink flowers in early spring and flat, reddish beans later in summer. It can reach up to 20 feet in height when mature. The foliage is usually glossy dark green until fall when it turns yellow. 
Related Post: Small Trees In Texas
The redbud native to Texas can be either multi-trunked or single. It prefers well-draining soil and full to part sun. Birds like the seeds while bees are usually drawn to the flowers. One thing to keep in mind about this type of decorative trees for Houston properties – they are susceptible to cotton root rot. 
Related Posts: Small Trees For Houston & Fall In Houston
5. Mountain Laurel
The Texas mountain laurel is a drought-tolerant, slow-growing tree that prefers excellent drainage for good health. Full sun is a must if you want good blooms. Slightly alkaline soil is the best one for this native, but it is tolerant of different types. Mix a little bone meal or ground limestone if your soil is on the acidic side. Doing this will increase alkalinity and provide a good environment for this tree.

Violet pea-shaped, highly fragrant blooms are usually the reason why people plant this tree in their gardens. It provides food for butterflies and bees, but the pealike seeds are toxic to humans. 
Can cherry blossom trees grow in Houston?
Cherries have been and are still successfully grown in Houston. Even though it seems challenging to any gardener due to the arid Texas climate, cherries can be found all over Texas and Houston. In fact, few varieties of cherries are native to Texas and they do very well in this climate. 
Tree Service Removal Overview
Hopefully, this article will help you better understand flowering trees for Houston area. Most of these are fairly easy to grow and will make your garden look beautiful throughout the whole year. Just make sure to consult with a professional arborist if you're not sure how and where a certain species should be grown. Keep working hard on your landscape and you will see results very soon!