The glitz and glamor of Las Vegas are best pictured not just through its city lights and towering hotels, but also through the palm trees that line up its streets. Even outside of The Strip, palms are abundant, including in private residences.
Are you looking for the best palm trees Las Vegas? Elevate your garden and give your home a boost! This guide will quickly look at some of the best palm trees in the city. 
The Most Popular Palm Trees Las Vegas 
1. Mexican Fan Palm 
Often recommended by providers of tree services Las Vegas, the Mexican fan palm is easy to grow in the right conditions. Growing at an average height of 80 to 100 feet, they like full sun and well-draining soil. They are also adaptable to deserts, which is why they are found not just in Las Vegas, but even in other places in Nevada. 
It has upright branches with leaves elegantly spreading, making it a great way to beautify your landscape. The lush and light green fronds are sure to turn heads. Best of all, it is a carefree plant that can tolerate drought. There's no need to lift a finger to grow this palm tree. 
2. California Fan Palm 
While it is called California fan palm, this tree is also common in Las Vegas. Also known as Washingtonia filifera and desert fan palm, it is a bold tree that will make an imposing addition to any landscape. It can grow up to 50 feet and will have pale-green leaves. In spring, there will be creamy-white blooms growing in clusters. 
It grows well even in hot climates, so watering is not a problem when growing this tree. Water the palm tree only as it establishes its growth. It can tolerate a variety of soil conditions and will need full sun. To keep the trunk clean, ask for help from experts in tree services Nevada. 
3. Canary Island Date Palm 
A large tree that grows at a maximum height of 70 feet and a width of 25 feet, the Canary Island date palm requires a large backyard. If you have limited space, you might want to opt for smaller Las Vegas palm trees. This tree is known for having sharp fronds and date-like fruits. 
It requires full sun when it is young, as well as plenty of irrigation. As it establishes itself, minimize watering. More so, it is also crucial to feed them with magnesium and potassium to keep the tree in its best condition. 
4. Mediterranean Fan Palm 
If you are looking for a palm tree that can tolerate the harsh climate in Las Vegas, you can't go wrong with the Mediterranean fan palm. It withstands extreme temperatures, even as low as 10 degrees and as high as 115 degrees Fahrenheit. As the name implies, this is a great addition to the landscapes of Mediterranean-inspired homes. 
While this is a drought-resistant tree, it is recommended to not skip watering the tree, especially in the summer months. To optimize its growth, using a slow-release fertilizer is recommended.
5. Sago Palm Tree 
Got limited space for the palm trees mentioned above? Sago palm is a great alternative! Even in small gardens, this is a fitting addition. On average, the tree grows 3 to 8 feet, although there are also some that can be as high as 20 feet. 
While taking care of sago palm is easy, take note of their special requirements. They need bright light to thrive. They also require well-draining soil and can easily die when they are overwatered. Regular fertilizing is also necessary to make the tree more vigorous. 
FAQs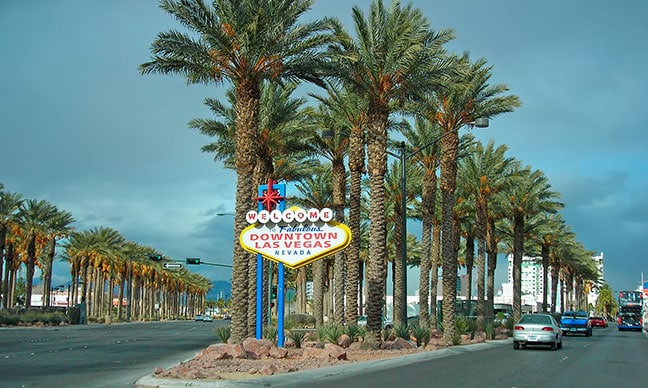 Q: What kind of palm trees grow in Las Vegas? 
A: The main kinds of Las Vegas palm trees include Mexican fan, California fan, Canary Island Date, Mediterranean fan, and sago palm. 
Q: Are palm trees native to Las Vegas? 
A: Palm trees are not native to Las Vegas. Despite such, they are abundant in the city. It is one of Sin City's most popular symbols as it is found not just in The Strip but even in private residences outside downtown Las Vegas. 
Q: Why does Las Vegas have palm trees? 
A: Las Vegas means lowlands, making it an ideal environment for palm trees to grow. Despite not having any native palm tree variety, it has an attractive climate for palms to grow. Not to mention, the hotels in the city want to add a tropical vibe to the metropolis, which is why palm trees are common, especially in the streets. 
Local Tree Experts Overview 
Palm trees Las Vegas are everywhere. From private homes to public spaces, they add a tropical vibe to the city. If you are thinking of planting one in your garden, choose from a Mexican fan, California fan, Canary Date island, Mediterranean fan, and sago palm tree.