Almost 16 million residents in California live in places suffering from moderate to exceptional drought. This accounts for over 42% of the state's population. It has social, economic, and environmental effects. Among others, it impacts the growth and health of trees. With this, you need to choose drought tolerant trees California to be sure that they will thrive. 
Even with extreme heat and limited water supply, trees can survive. The secret here is to choose the right varieties. Read on and we'll list some of the best trees to plant. 
Our Favorites for Drought Tolerant Trees California 
1. California Sycamore 
One of the California native trees drought tolerant varieties, the California sycamore is fast-growing and reaches a maximum height of 100 feet. Meanwhile, the canopy spread can reach as much as 70 feet. The tree has a massive trunk, tiny green blooms, and leather-like flowers. It grows in a place with full sun. Ideally, it needs up to six hours of sun exposure in a day. It grows in different types of soil, including alkaline, acidic, loamy, and moist.
Related Posts: California Shade Trees & California Fast Growing Trees
2. Canary Island Pine 
If you are looking for the best landscape trees in California, then it is hard to go wrong with Canary Island pine. It is a great way to add a tropical vibe to any property. The tree has long pine needles that droop from the branch, adding a distinct character. It can grow up to 80 feet in height with a canopy spread of approximately 30 feet. Be careful with the South American palm weevil, the most significant pest in this pine tree. 
Related Post: California Pine Trees

3. Live Oak 
Among the different varieties of oak, the live oak is one of the most graceful. It is an impressive addition to any backyard, especially if you are looking for a shade tree. The strong branches can spread at up to 120 feet, making it one of the widest on our list. The symmetrical and dense canopy gives the tree a distinct character. Nonetheless, it can also be problematic. It has wide surface roots, which can damage streets and properties. In time, you might want to consider tree removal California. 
Related Post: Oak Tree Care & Oak Tree Diseases California
4. Western Redbud 
One of the best flowering plants in California, the Western redbud is a small tree with an average height of 20 feet and a canopy width of 15 feet. This is an excellent choice if you have a small garden. It is known for its pea-shaped purple cluster flowers that show off starting early spring. It looks even more beautiful with its round leaves, which can be bluish-green, silver, orange, or red. This tree is pest and disease-resistant. 
5. California Box Elder
A common tree in the coastal mountain ranges of California, the box elder can grow up to 66 feet and reach a width of 40 feet. It can tolerate a variety of soils, but the best growing conditions would be a pH level between 5 to 8. For the location, it will thrive anywhere there is full sun. The maximum water requirement is once a week once it is established, making it drought tolerant. 
6. Catalina Cherry Tree
A native to Southern and Central California, the Catalina cherry is a large evergreen. It has glossy and green leaves, which can reach a length of up to 5 inches. With its thick foliage, this also makes a great choice for a shade tree. The canopy can grow thick making tree services California essential to maintain a neat and compact appearance. 
7. Desert Willow
The name itself already gives an idea of how drought tolerant the tree is. It survives even in the desert, so no need to think about its water requirements. Upon maturity, this tree grows as tall as 25 feet and as wide as 10 feet. It isn't as large as most of the trees on our list, making it a great option if you have space limitations. Growing this tree is difficult only from the start, but once it establishes, care and maintenance will be a snap. 
8. Jacaranda 
These purple trees in San Diego can also grow in other parts of California. More than being drought-tolerant, this is a favorite amongst many because of its beautiful blooms. Its showy purple flowers will be a showstopper in any garden. In the same way, this is also its biggest problem. Come fall, the flowers will drop. They are messy and sticky. Anyone who has jacaranda on their property will know how difficult cleaning can be! 
9. Northern Catalpa 
With its bright-green leaves and lively cream-white flowers, Northern Catalpa makes another exceptional choice for drought tolerant trees California. After establishing its roots, the plant can withstand extreme heat. Pruning is encouraged to maintain proper growth. To help you with the latter, get in touch with experts in tree trimming California. 
8. California Bay 
When looking for the best California native trees drought tolerant varieties, the California Bay is another promising option. It grows in the state's coastal areas. The tree has an average height of 80 feet. It is also known for being aromatic. The crushed leaves release a pungent aroma with a peppery flavor, making it useful as a cooking spice. Take note that this tree releases terpenes, which can kill other nearby plants. 
FAQs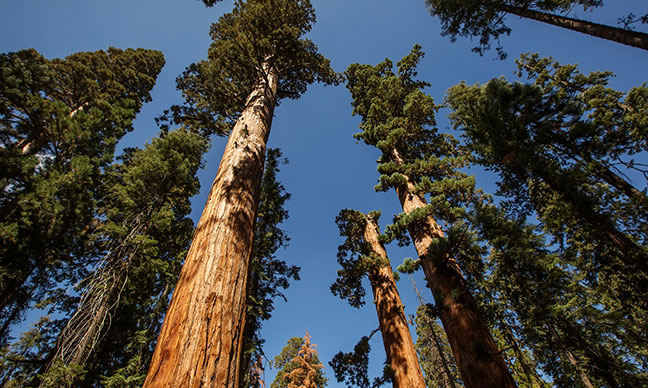 Q: What is the best drought-tolerant ground cover? 
A: Creeping myrtle, Oregon grape, creeping thyme, moss phlox, and winecups are some so the best drought-tolerant ground covers. These plants have narrow leaves and a small surface area, which also limits their water intake requirements. 
Q: What tree requires the least amount of water? 
A: From cedar to acacia, countless trees require minimal water. They can survive with minimal to no water, making them perfect in places where drought is a big problem, such as in California. 
Local Tree Experts Overview 
The Golden State's heat and water shortage are significant problems for trees, Good thing, you have a diverse selection of drought tolerant trees California. They can add shade to your property, make your landscape more beautiful, and provide wildlife habitat without requiring a lot of water to survive.